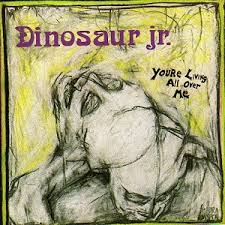 In honor of their more than three decades of awesome music, Reclaim Hosting is naming the first of two servers for the Fall 2016 semester after Dinosaur Jr. Few bands that were part of the 1980s hardcore, indie punk movement have had the staying power of this trio. They just kept on playing, and J Mascis returned punk to the glorious hey day of the rock and roll guitar solo. And while drummer Murph left in the early 90s to play with the Lemonheads and bassist Lou Barlow formed Sebadoh (a 90s indie giant), the original band has been back together since 2005. If you think of ed-tech groups as bands, which I tend to do, than Dinosaur Jr. have much to offer in terms of longevity, fierce independence, and influence on a whole generation of post-punk, show-gazing indie bands. I have had their 2012 recording session at Roundhead Studios in New Zealand in constant rotation on my playlist the last 6 months, and I highly recommend it. But if nothing else, listen to them play "Sludgefeast" off their classic 1987 album "You're Living All Over Me."  So rocking, so tight, these guys are too legit to quit!
https://reclaimhosting.com/wp-content/uploads/2016/08/imgres.jpg
225
225
Jim Groom
https://reclaimhosting.com/wp-content/uploads/2018/04/RH-VHS-Logo-Blue-with-Orange-620x394.png
Jim Groom
2016-08-27 02:49:28
2016-09-03 14:22:55
New Server: Dino Jr.