This year has been another solid one at Reclaim Hosting, and while I have some breathing room between semesters I figured I'd try to recap of some the highlights. For a small team we tend to bite off a lot, and I'm over the moon with how much we got done this year, but there's no question it has been an intense one.
The first major project of the year was getting our video store, Reclaim Video, up and running. There was a fair bit of manual labor involved in this process, including a groovy carpet that was almost the death of me. We did most of the work in February and March, and by April we had the official launch of Reclaim Video at OER18 in Bristol which included an unveiling of the website as well as the screening of our first "marketing" video:
The OER18 conference was another highlight for Reclaim given the entire team attended, and we enjoyed the vibe so much it looks like we'll be heading to Ireland for OER19 this Spring to re-live the glory of our video world premiere.
We also used the announcement of Reclaim Video as an excuse to update our website art from vinyl records to VHS tapes, which has been a fun motif for the site. I also think it's high time we get shirts made of the new logo design, all hail Bryan Mathers.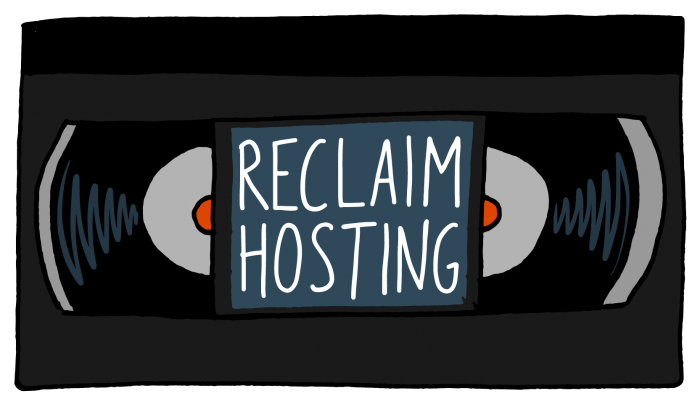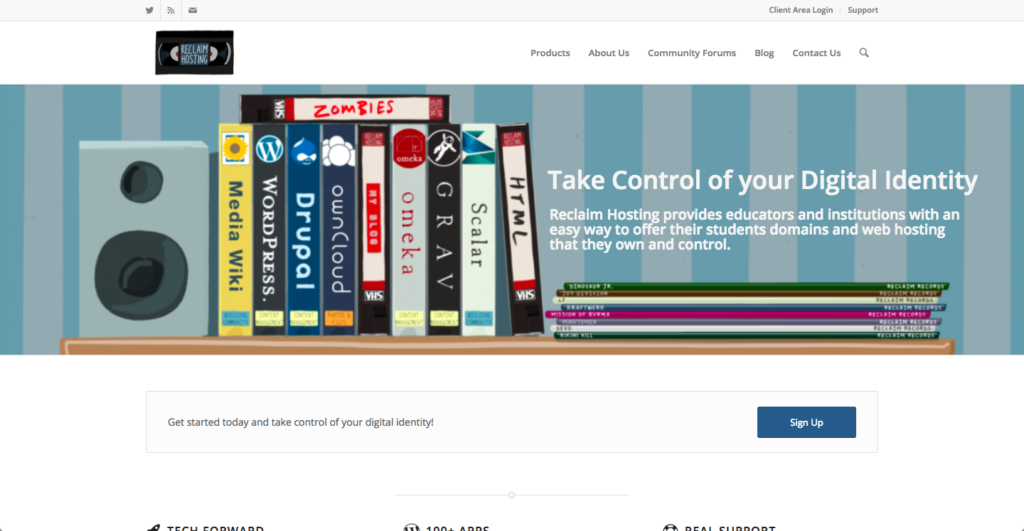 To top off the Reclaim Video art and video-infused frenzy of the first 5 or 6 months of 2018, we invited Michael Branson Smith to Fredericksburg in June to brainstorm ways to build on top of the Reclaim Video website he designed for us. This led to some playing with Raspberry Pis, animated GIF movie posters, and beefing up the Reclaim Video stereo system. Hanging out with Michael was a definite highlight because he's always a creative inspiration, and the playful work we did with him that weekend would carry through for us into the second half of 2018 (but more on that anon).
But the first half of 2018 was not all VHS stores and world premieres, we also ran our second (and possibly last) Workshop of One's Own in Fredericksburg. This workshop had 14 people and was a two-day tour de force, Tim even threw in an escape room. We also brought in Alan Levine to kick off a year-long fellowship to offer SPLOTs as one-click installs through Reclaim's Installatron (we currently have 5 up and running).
Day two afternoon, @cogdog explaining SPLOTs // @brlamb pic.twitter.com/bYfGsjvGqw

— Lauren Brumfield (@brumface) March 16, 2018
Also of note during the Spring was the talk I gave at Re:publica in May. The conference seemed like a throwback tech conference from the aughts, and I realized then and there that my heart's not really in the presenting game these days. Part of that is I feel like I've said all I need to say on Domains using that format, and the other is I've not been all that good at coming up with novel presentations—which means I'm re-hashing. I hope I find my mojo again because I really do enjoy presenting, but between the crunch of my day job and the realization I've had more than my fair share of opportunities to present—it might be a good time to lay low and plan my late career comeback in Vegas
That said, making another guest appearance on Virtually Connecting with Christian Friedrich was a highlight:
I also got to meet an international band of #Edupunx thanks to Twitter and a coffee mug, which I am now in proud possession of
Kaffee einfüllen, starten. Hoffentlich springe ich an. #gutenmorgen #startmyday #fridaymotivation #coffeelovers #flatwhite https://t.co/6hcAabIBIm pic.twitter.com/b7QIhBFeX0

— Ines Bieler (@seni_bl) May 4, 2018
The last 6 months of 2018 had the same level of intensity, but in different directions. Starting in June we were strongly considering re-developingDomain of One's Own from the ground up. This meant trying to imagine the experience outside of cPanel and WHMCS entirely in order to build the Domains infrastructure on top of a container-based application framework like Cloudron. It remains a dream, but after spending a few months exploring the requirements and seeing just exactly what this would entail we decided to shelve it for a variety of reasons. Foremost amongst which was the uncertainty of what a container-based, app-driven hosting environment would mean in terms of server resources and costs.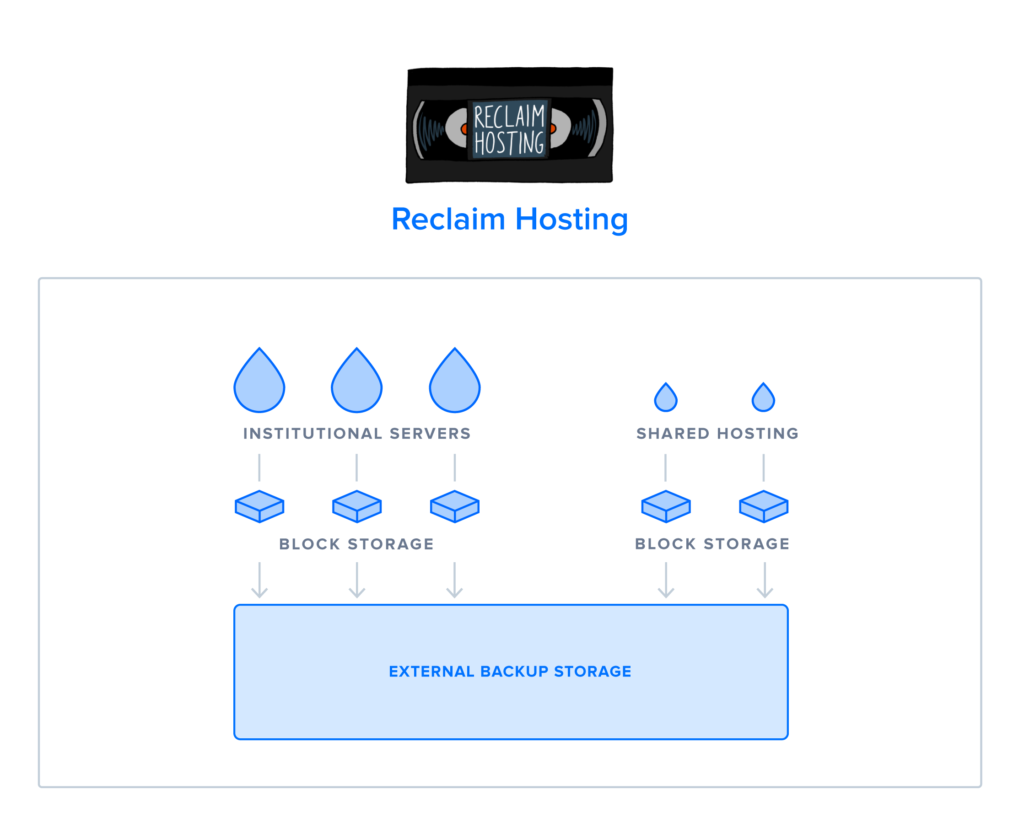 June was also the time when Digital Ocean featured Reclaim in one of their case studies, which was not only awesome but also timely given we would spend much of the Summer of 2018 moving the last of our shared and Domain of One's Own server fleet to DO. It was a 2-3 year long migration of our infrastructure, but this Summer saw the last of all significant migrations—which was both a huge accomplishment and relief at once. As an added bonus DO cut their pricing significantly to start 2018 which meant we could return the favor to our managed hosting clients—which felt good.
June was also the time Lauren officially moved into the role of Account Manager with the idea that we would be more intentional and pro-active about reaching out to schools. It's been a learning process trying to manage over 70 schools, but building regularity of communication into our practice has been huge and Lauren has been amazing at this. Moreover, she has also been on-boarding clients, fielding interests from potential schools, setting up servers, and all while answering support tickets. The untold joys of working for a small company
One of the nice things about 2018 is that we showed no signs of slowing down. In fact, quite the opposite. Part of what made this such an amazing year was seeing a major uptick of interest in our managed hosting for WordPress Multisite, as well as our Professional Services offering. Reclaim has been diversifying a bit beyond Domains and shared hosting, which means we are rounding out well while at the same time remaining focused on what we do well: academic-driven hosting. We've also gotten more interest from schools that want us to manage user support for their campus Domains project, which is one reason why our growth has been focused on shoring up the support experience.
We knew if we didn't hire someone to help out in time for fall it was going to be a heavy workload for all of us, and that proved to be true. We answered upwards of 3200 tickets amongst the 4 of us since August, and I'll be so bold to say we did an awesome job taking care of the community that takes care of us. That said, I think we're all ready for a more systematic approach when it comes to support. So the last few months quickly became about devising and hiring a position to run our customer support. We wanted to start with someone who could take what we have and implement a support structure that moves beyond our all hands on deck approach currently so that we can begin to compartmentalize roles a bit more.
But before we hired an employee we did something even better, we hired a consultant. But not just any consultant, a Justin Webb consultant
For those out there not keeping score, Justin was the CIO at UMW under whom Domain of One's Own go the green light from IT. His understanding of what DTLT was doing in 2013 was exactly what we needed at the time, and Tim and I have been in touch with Justin ever since we departed UMW. This fall provided an opportunity for us to work together once again, and the immediate needs in September and October was helping us solidify various IT requirements around security, accessibility, and the like. It's a lot of work to manage those requests, and having a university-trained CIO to consult on these issues has been invaluable. But that was just the beginning, Justin also took over the job search for the Customer Support Manager position, and right before Christmas we officially hired that position—which is a huge win of 2018.
As Reclaim turned five this year the strange realization that we're not going anywhere has started to settle in. We have a solid customer base; we provide an excellent service at an affordable service; and people continue to come to us at a frequency that's increasing by the day. Three years ago when I jumped ship at UMW and struck out for the territories, I wondered if we would make it this far. There were some highs and lows, as well as months of feast or famine as we figured out getting paid and managing accounts, but what amazes me as 2018 draws to a close is that we have all that in hand, and everything over the past 6 months points to the fact that we may be on the cusp of a growth spurt—and that is both exciting and a bit nerve-wracking. We continue to lead with support, which is what has distinguished us thus far, and while we're not actively pursuing new clients, they're coming regardless. I like that we have grown steadily since 2013 at a pace that has allowed us to move cautiously into broader vistas—and I'd like to see that carry over in 2019. It remains a point of pride that we have not taken any investment money, remaining free to call the shots about what we will and won't do. That makes Reclaim special for me, I think about the work we do and I can honestly say it's genuine; we do not price gouge, we've never up-sold anyone (rather the opposite), and we do next to no marketing outside resurrecting a 1980s-era video store.
I think there are just a few last points I need to make before this never-ending post comes to a close….
Last day of #MozSprint is almost over! We've had an awesome 2 days building #owlteh & connecting with people all around the world ? We've only just begun, we'll be sharing more resources & updates very soon!

? @villaronrubia @LaurenHeywood @cxlegge @SAndrewsMedia Esme & Emilia pic.twitter.com/9AmlnuNHvl

— OWLTEH (@OWLTEH) May 11, 2018
Sponsoring the Learning on/with the Open Web Conference (OWLTEH) at Coventry in October was another highlight, working with the folks at the Disruptive Media Learning Lab is always a pleasure, and the OWLTEH event at Coventry's Transportation Museum was a total blast. The highlight for me was organizing a panel with Anne-Marie Scott and TOny Hirst to talk about the future of edtech infrastructure and Jupyter Notebooks.
Anne-Marie and Tony were on a serious role, and it was a eye-opening both listening to them for that hour, but then talking with them both before and after OWLTEH. The folks in the UK edtech scene are so awesome, and getting to spend time with so many of them over that two days was a real treat. The Jupyter Notebook phenomemon is not going anywhere, and Tony's newsletter "Tracking Jupyter" is something I want to spend my coming week off catching up on. Also, I still want to blog my experience at OWLTEH with Anne-Marie and Tony, but it's been hard cause I feel like I actually have to play with this stuff and I have not had the time just yet…soon. What's more, it's hard to write about something that Anne-Marie already has well in hand on her blog.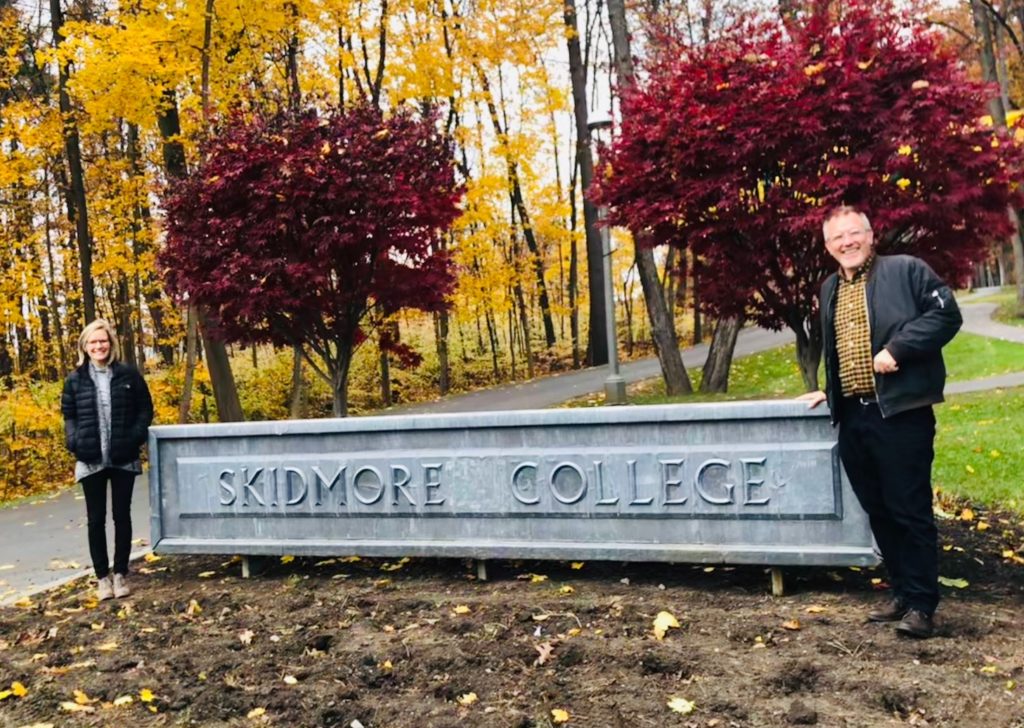 In November we were all set to our second Workshop of One's Own in Fredericksburg, but in September we took Justin's advice and scrapped that model and moved towards regional workshops. One of the struggles of being so locked into support is we don't do as much of the outreach as we could/should. That changed this fall with our first Reclaim Roadshow at Skidmore College in early November. You can read more about it here, but the long and the short of it is we are running regional events that pair a workshop for admins Domain of One's Own with a user group/unconference event around a theme. The next one will be at Michigan State University on February 21st and 22nd focused around the idea of Digital Presence, you can read more about it here and here. The Skidmore Roadshow was a total blast, and I am very much looking forward to Michigan, and after a chat with Bryan Mathers we have an organizing aesthetic/metaphor for the Roadshow which I love!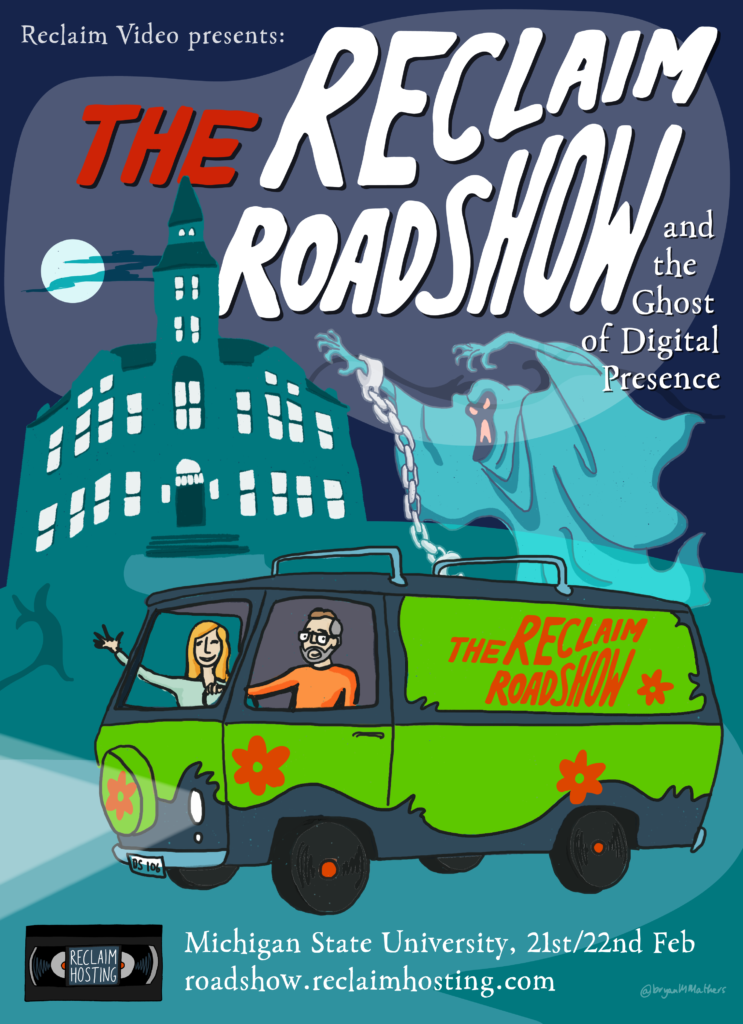 I hope in 2019 we can actually create a short animated piece around a topic, and re-watching Scooby-Doo the last few days at the "Mine Your Own Business" episode from season 1 is ripe for a re-write, especially the Miner 49er character: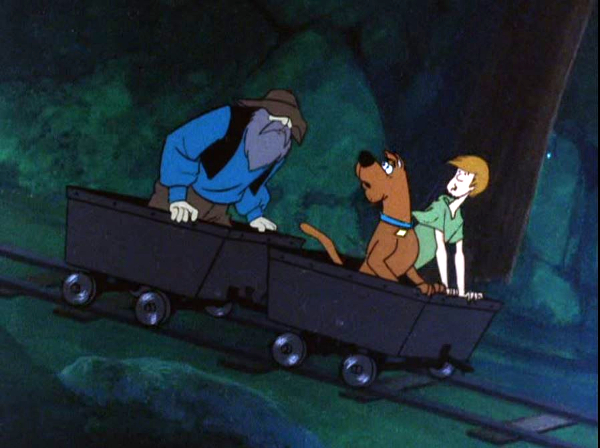 DataMiner 49er anyone? I mean this episode can almost re-write itself, they even discover the "new gold" in the haunted mine, oil! Let me count the ways.
Finally, we continue to have some fun with the office space. beyond Reclaim Video. After the Roadshow in Skidmore, Tim and I started doubling down on turning part of the office into a makerspace. Tim's history with UMW's early venture into makerspaces is well documented, and we finally bit the bullet and got a pretty bitchin' 3D printer. And we put it to immediate use given I came back from the Victoria & Albert Video Games exhibition in London with an idea for building a DIY video game based on Line Wobbler, and it just so happens one of the requirements was to 3D print the joystick case.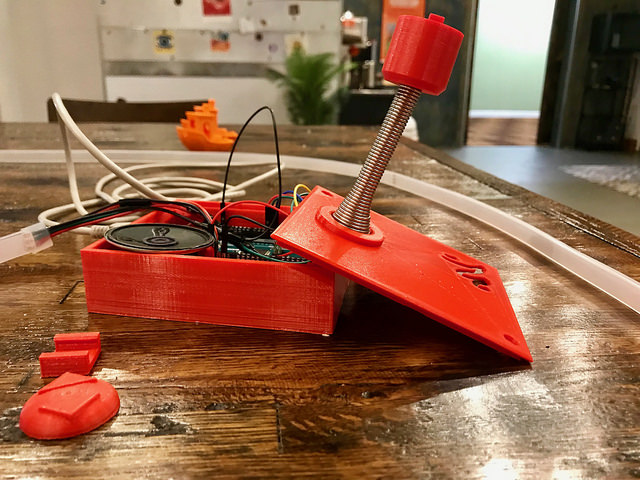 We also re-connected with George Meadows from UMW (a lot of good re-connecting this year!) who was as jazzed as us about rekindling our shared makerspace history. Although, to be fair, George has not stopped pushing on this technology for teaching and learning since 2012, and the story of how he got 3D printing, Arduino, and a whole variety of cool technologies in the Fredericksburg, Stafford, and Spotsylvania K12 school systems is still to be told—some amazing work he did in that regard.
We also did some more work on the office space. We had some dead space behind Reclaim Video that was essentially transitional storage space that now have two quiet booths for phone calls which was desperately needed by the folks at CoWork, as well as some cleaned up walls and a fresh coat of paint for the new makerspace: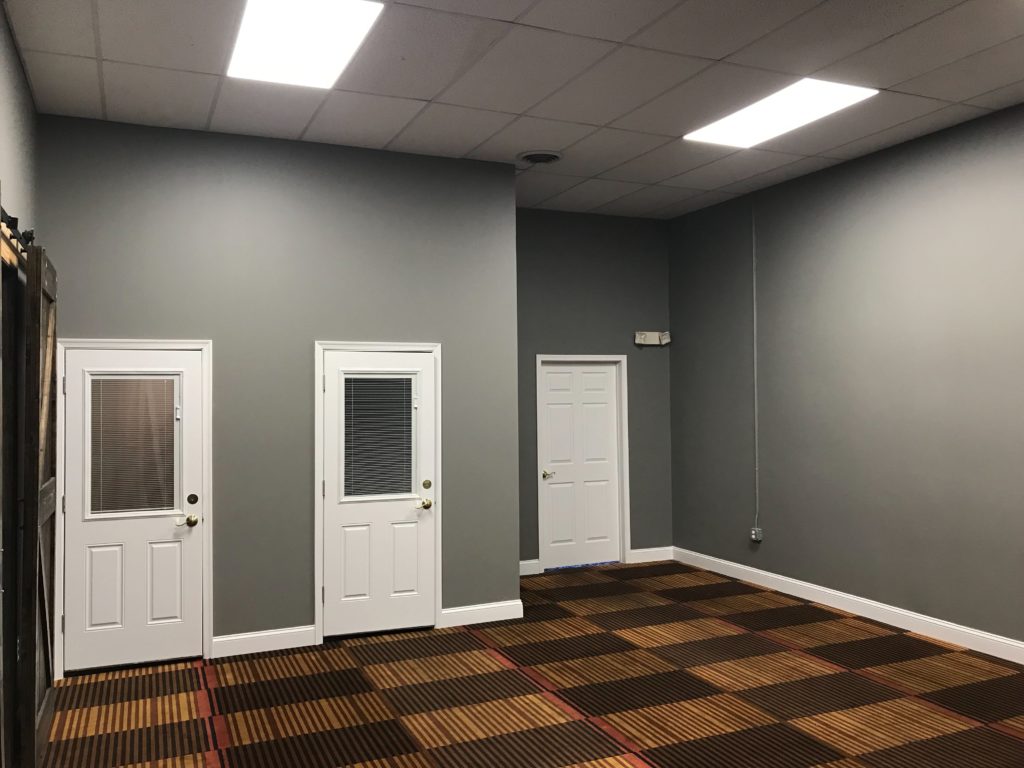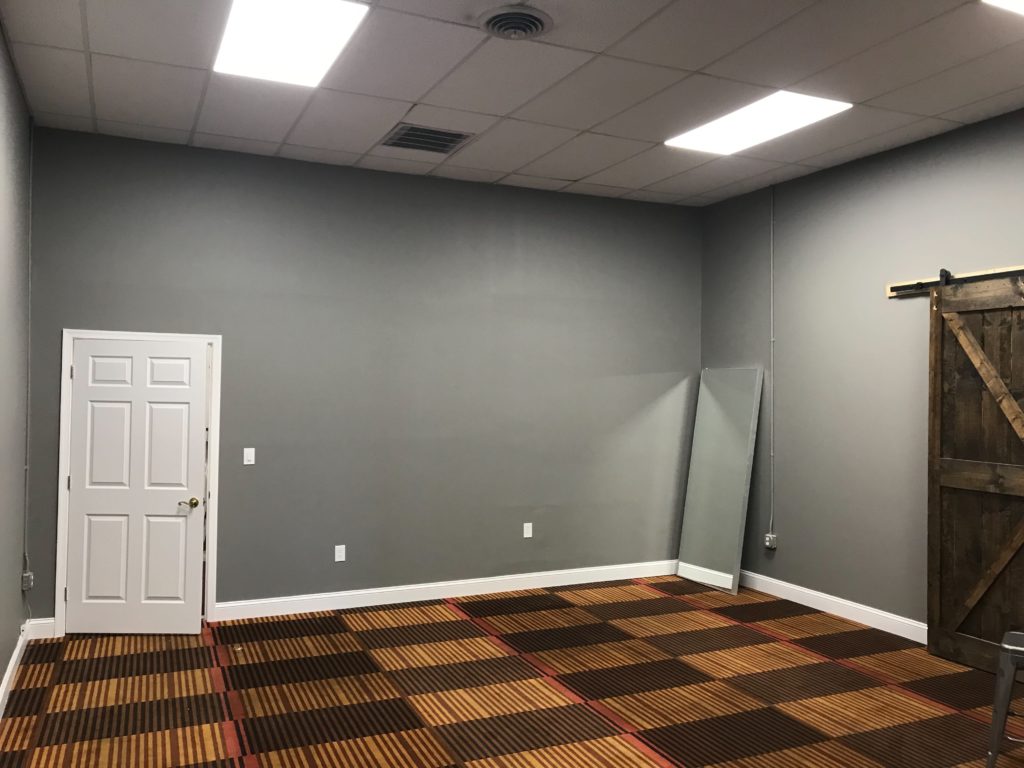 I am just realizing I forgot our Reclaim Today streaming video sessions (we did 13 or so), but I am running out of ink and energy on this one. Reclaim Today is something we need to jumpstart in the Spring, but world enough and time, right? For now that's going to have to do, although I am sure there is much I left out. Let me end by simply recognizing how lucky I am to have been part of Reclaim for the last 5 and a half years and to work with so many amazing folks. I am really looking forward to 2019, the year when Reclaim Video brings back the glory days of the Saturday Morning Cartoon to edtech :).